If you already play or have played in our leagues, you will already receive emails. If you are not, you can click on the link on our homepage and we will include you in future emails.
Check the SPORTS OFFERED for all the info on prices and nights available. From that page you can click on REGISTER NOW to get yourself signed up and playing. If you are an existing member, log in with your email address and password, go to SIGN ME UP. Select your team name and add your roster. The roster can be created by inputting your player's First Name, Last Name and e-mail address. You are required to enter a minimum number of players (and meet minimum gender requirements). You will not be able to proceed if you have not met these requirements. Once you have entered your roster, proceed to the payment section.
The exact locations of your games are determined once registration closes. Club Montreal reserves gyms and tries to select the best gyms for the sports offered and the number of participants. We choose gyms once registration closes so please don't call us to find out where you will be playing. Club Montreal does its best to choose central locations accessible by metro with parking. While the night of your games will never change, the location of your gyms might vary from week to week (typically between 2 spots). Our usual locations include Notre-Dame de Grâce, Outremont, Côte des-Neiges and Sud-Ouest
Members' preferences vary; some people like to play east, others west, some right after work, others later. We do our best to try to even out schedules so that teams have an equitable distribution of game times (indoor leagues) or field locations (outdoor leagues). Unfortunately, this is not always possible. If you do have a specific request (ie. only 7:00 pm games, no 7:00 pm games, only this location,...) we will do our best to accommodate you, subject to other requests in your division, and given our permits. These requests must be made at registration but there are no guarantees.
YES, just chose the night and division. We will then place you on a team of other individuals. For details as to the location of your first match, and for the list of your teammates, please log into your profile 24-48 hours before the start of your league.
Gender minimums:
If you do not meet the minimum gender requirements, you are allowed to play short (ghost players) without defaulting.
Exception: Individual teams do not have to play with the minimum gender requirements in our mixed league.  The exception to this rule is if a team is contending for first place (top 4, then top 2) they must play short or play in the right gender numbers.  These players are not subject to the playoff rule where every player must have played a minimum of 3 games in order to contend for first place (top 4).
You will both have to register separately online and put in the comment sections that you want to be on the same team as each other.
If your captain registered the team and it is your first time playing with Club Montreal, we send you an email with a temporary password. If you can't find this email, click on lost  password and we will resend you this information. You will then be prompted to change your password which you will use next time you sign in. Once you sign in, you will be able to choose sports, print your discount cards, view your team roster and send emails to your teammates.
All schedules are on the website via the schedules link. You must log in to view your schedule and your team information. If you signed up individually, log in to see what team you are in. Please note that if your captain signed you up, only your team captain can make changes to the team.
Schedules are sometimes (but rarely) subject to change at the last minute, usually due to schools being unavailable for a particular night. As soon as we are notified of these changes, we post these changes on the website. Usually, we have at least one week's warning of these changes, but sometimes we are not notified ourselves until the day of or the day before a schedule change. It is the responsibility of the school and the permit department to inform us of any changes in a timely manner, but this does not always happen. Please bear with us as we have no control over these changes. In these circumstances when a schedule is changed later than 5:00 PM the day before you are scheduled to play, we also make every effort to personally contact the players affected by the change. This is why it is very important that all roster information be correct and up to date. It is beyond our control to notify players if a) their e-mail address or phone number is not correct; or b) the captain did not register the proper information.
If there is room in a particular sport or activity, you can go ahead and register. The results of Week 1 are always posted as a tie. The leagues officially start Week 2.
CMSS tries to include as many latecomers in the schedule as possible however we cannot always plan for a social game if teams sign up less than a week before the start date.
Unfortunately, defaults are OUT OF OUR CONTROL. Therefore, we cannot give refunds or re-schedule games. The defaulted team will be contacted and given a warning and will lose the match. 
No, we never give out any personal information without that person's consent. You will need to exchange details at your next game.  If you want your teammates' info, you can look under my teams and schedules once you're logged in.
Using the website:
Log in with your Club Montreal Profile. All scores need to be submitted by 17h00 the day following your game.
On your dashboard, click on your team name. It will direct you to the schedule page.
As you scroll down on the schedule page, you will see a "Record Score" for the match score(s) you need to submit.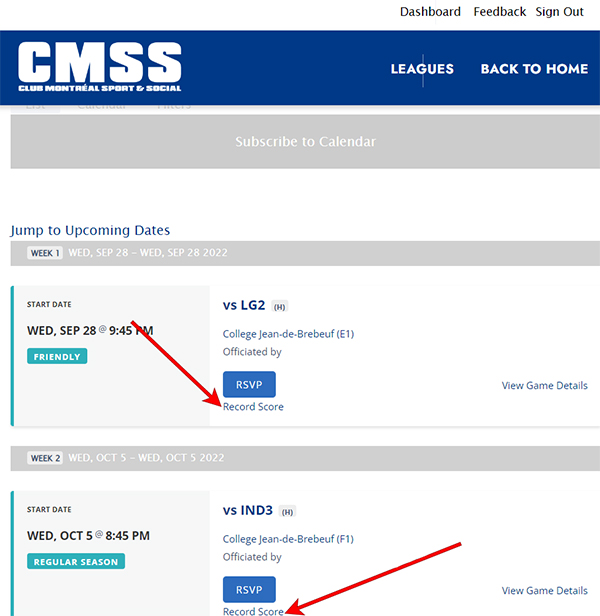 Using the mobile app:
On the Events tab, click the clipboard with pencil button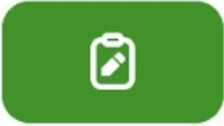 You'll be able to type in the scores and save them, updating the Events page and Standings.